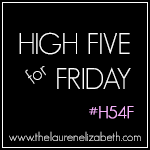 So, I thought my first post back would be High 5 4 Friday with Lauren over at Lauren Elizabeth. I used to love doing this every Friday! Sorry if you are coming over from her blog and mine looks, well, a mess. I'm in the process of getting The Purple Chaise Girl re-beautified! Hello any old reader friends and hello too to any new friends! Why don't we get this Friday party started...right?!?!
1. It's summer and I have decided to start taking Kallie swimming every Monday! I really enjoy getting to spend so much one on one time with my little munchkin. She LOVES to swim!
2. I'm kind of a stick in the mud when it comes to Kallie's swim attire. Always one pieces! BUT, I saw this two piece and I had to get it for her! Little model!
3. One of my favorite human beings of all time gave me the BIGGEST compliment this week on Instagram. She is by far the most creative person I know. She told me, "You are the most talented girl I know!!" Means a whole lot to me and very inspiring actually!
4. Getting the blog revamped. I'm really excited about it. Hoping to blog as much as possible!
5. Got a new MacBook Pro at work. I'm in NERD heaven!
I hope everyone has a wonderful weekend!